Walking through Salamanca is one of the biggest pleasures that you can enjoy during your visit and, without a doubt, it is the best way to move around the city. If you want to go a little faster, and incidentally do a little more exercise, you can always rent a bike. And if you need to go further, we recommend the bus or our beloved taxis.
Updated on 09/May/2021
By Walk
Salamanca is a city with the perfect extension to go everywhere on foot. Healthy and ecological way of transport. But in addition, you will be able to better enjoy every detail of the magnificent views that Salamanca offers.
By Bike
The Salamanca City Council has a bike rental system (Salenbici), thanks to which you can rent a bike at www.salamancasalenbici.com or at one of the following places:
Área de Medio Ambiente. C/ Iscar Peyra 24, 5° Floor. Opening hours from 9:00 to 14:00.
Espacio Joven. C/ José Jaúregui 19. Opening hours 9:00 to 13:30 and from 17:00 to 19:00.
Usal la bici. Colegio de Oviedo. Paseo Fco. Tomás y Valiente s/n. Opening hours from 13:00 to 14:30 h.
You just have to fill out a form, present a photocopy of your ID or passport, and the proof of payment of the fee in the account of UNICAJA ES77 2103 2200 1000 36044683.
How much does it cost?
€ 13.00 for one year (365 days)
€ 7.75 for a month (31 days)
What are the hours of use?
Monday to Friday from 7:00 to 22:00. Saturdays, Sundays and Holidays from 10:00 to 22:00.
For how long can I take a bike at most?
The maximum duration of each rent is 1 hour, but you can renew as many times as you want.
Where are the renting points?
You can find all the bike renting points at http://medioambiente.aytosalamanca.es/es/movilidadsostenible/sistemadeprestamodebiciletassalenbici/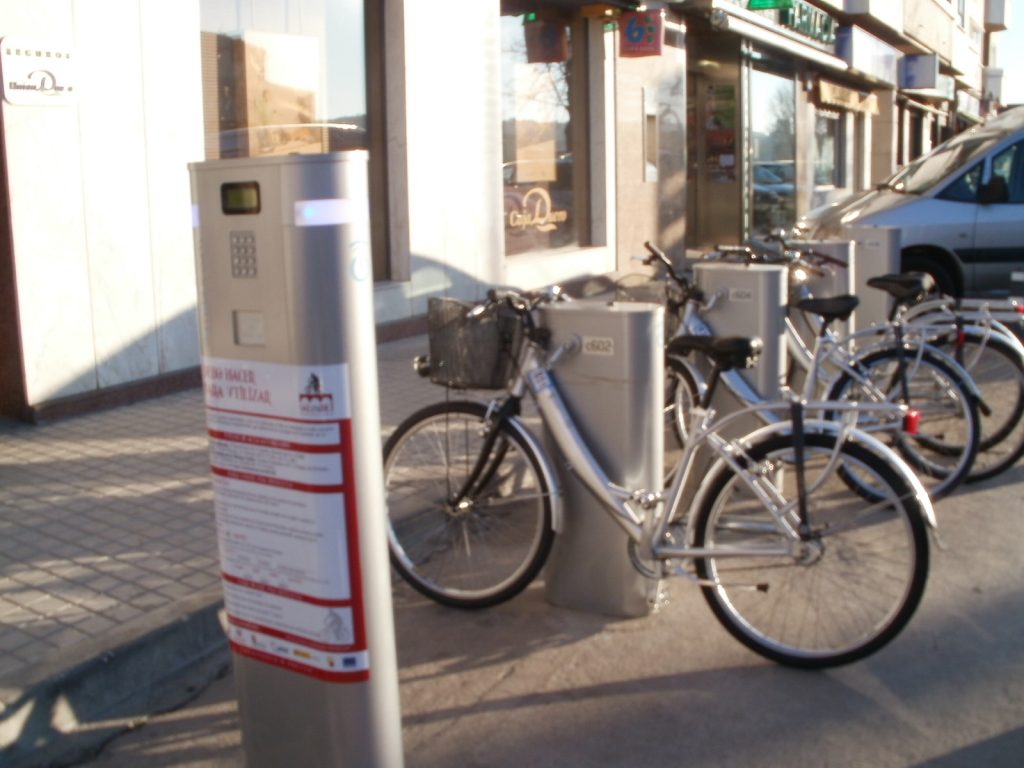 For more information:
Phone: +34 923 279 137 (9:00 to 14:00) - Only in Spanish
Mail: medioambiente@aytosalamanca.es
By urban bus
Si quieres ir algo más lejos, está lloviendo o nieva (cada vez menos, cosas del cambio climático), puedes coger un autobús urbano.
When you buy a ticket on the bus one trip will cost you €1.05, but we advise you to inform yourself before taking the bus since it is one of the things that has changed due to COVID-19; Coins are not accepted on buses. We hope that when you visit us this has returned to "normal" (hopefully!).
The option that we recommend is to go to the the Salamanca Transport Office (Calle Gran Vía, nº 4) and request abus card (bono-bus)". They are € 2 for the card plus a minimum recharge of € 5, but each trip will cost you € 0.59 and the first transfer (another trip on another line) will be free if 45 minutes have not passed since you have taken the first bus.
You can recharge the card at the office or on the buses (but remember that you can only pay with a ticket and giving the exact money).
Advice: Download the free app and you will be able to know in real time how long until the next bus passes.
By Taxi
If you don't feel like walking, you go too far or you don't want to wait for the bus, you can take a taxi (no, you won't find Uber here). You can call this number : 923 25 00 00, or use the app PideTaxi (valid for all Spain).
You can also go to one of the taxi ranks around the city.
Regardless of the way of transport you choose to move around Salamanca, we hope you enjoy everything the city has to offer..