Sííí, también Salamanca tiene su propio mapa USE-IT. ¡Ah!, ¿no sabes qué es? Entonces sigue leyendo.
What is a USE-IT map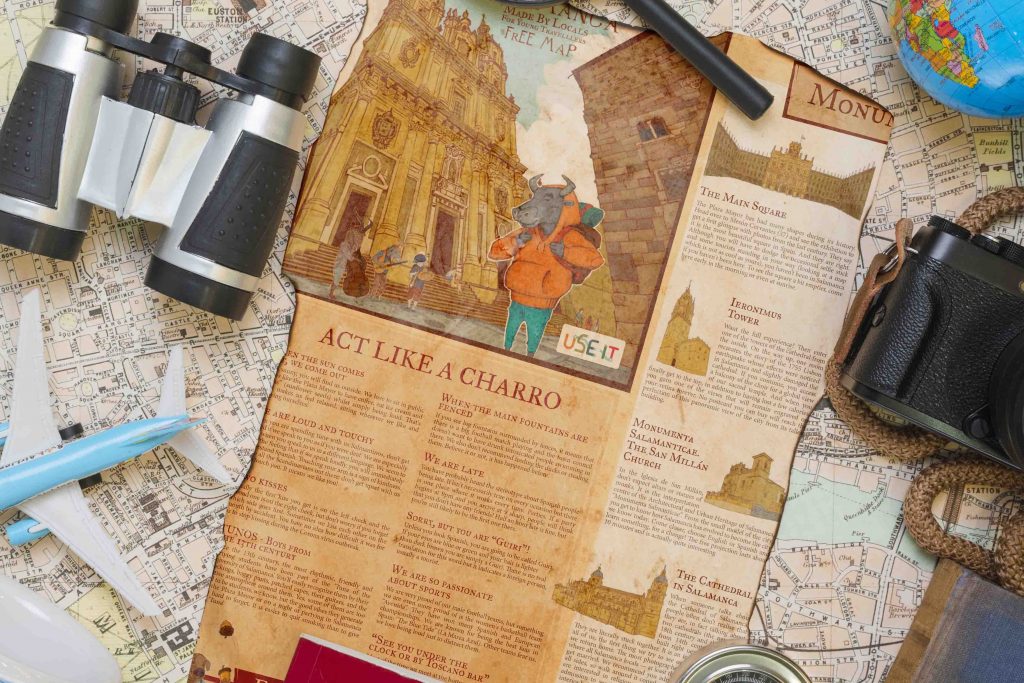 A USE-IT map is what we call an authentic map. A map, which will show you the city as if you had a local person at hand. This map will take you to the places that you would hardly find on your own or you just wouldn't think of looking for them. You can't find any «bull?» on this map. Everything on the map is recommended to you, by local people or by those of us who have been "invading" this city for several years. No private interests, just that you enjoy the city.
USE-IT Salamanca is not just a map. It is a guide that will help you achieve an unforgettable experience and once you try it, you will want to look for it in other countries as well.
What exactly does it contain
On the map you will find the bars, restaurants and taverns most recommended especially by the young people of Salamanca. Thanks to the map you will know what time to go, you will have a clearer idea of ​​what to ask for and how much it will cost. But that is not all. It will also take you to the monuments, museums, places of entertainment and a good "chill" that we think you should not miss.
The map will help you better understand the people of Salamanca, you will get several useful information and we will tell you about the "oddities" we have.
Where you can get it
As soon as it comes out (May 2021), you can catch it totally FOR FREE at the Tourist Office and in many other places. But we will inform you of them when they are there. You can also download it here in PDF or print it at home. So you come prepared.
Why USE-IT?
Because USE-IT is a network whose goal is exactly the same as ours at YDEA - to do things that make sense and to help travelers who have the most authentic experience possible. We are sure that if you will not bring from Salamanca anything else, the USE-IT map Salamanca will be your real souvenir. In addition, you can find USE-IT maps also in many European countries: Belgium, Netherland, Poland, Czech Republic, Germany, France, Portugal, Italy, Austria, Croatia,… And we want Salamanca to be part of this wonderful project. Go to the page of use-it.travel. They may have that map at your next destination as well.
If you want to know more about the map or you would be interested in participating in its creation, write us on ourFacebook, Instagramor send us an email useitsalamanca@gmail.com.